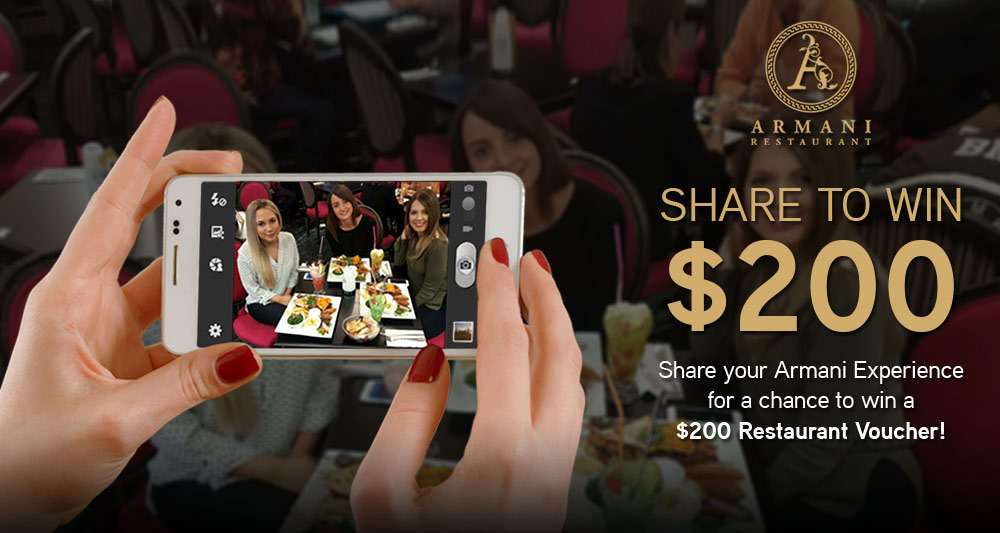 At Armani Restaurant, we just love seeing our guests enjoy our amazing food and service. As a token of our gratitude, we're giving away a restaurant voucher worth $200! All you have to do is post your photos or videos taken at Armani and tag us @armani_restaurant_sydney or #ArmaniRestaurant
Only public photos will be considered as entries to the draw. Giveaway runs from 1st of July 2018. Winner will be announced every Monday fortnightly.
Restaurant vouchers are only valid for 1 month upon receipt and can only be used from Monday – Thursday. Winners MUST call beforehand to book. Prize can only be used by the winner and is non-exchangeable and non-transferable.
TERMS AND CONDITIONS
PROMOTER
The Promoter is at 354 Church Street Parramatta NSW 2150 ([Telephone] (02) 8840 9453) ("Promoter") Competition permit number: APP-0004372789
COMPETITON PERIOD
The competition giveaway ends at digression of Armani Restaurant ("Competition Period"). All references to time are local in Sydney, Australia
WHO MAY ENTER
This competition is open to all Australian residents, over the age of 18, who follow outlined instructions.
This competition is not open to any employees or family members of Armani Restaurant or its related bodies.
ENTRANTS BOUND BY CONDITIONS
By participating, entrants agree to be bound by these Terms and Conditions.
HOW TO ENTER
To enter, entrants must read these Terms and Conditions, and follow all competition instructions
LIMITATIONS ON ENTRY
Each person following instructions will be counted as only one entry.
Entry into the competition is free. However, any costs associated with an individual entering the competition are the responsibility of the entrant.
ENTRY VERIFICATION
The Promoter reserves the right to verify the validity of entries and to disqualify any entrant who tampers with the entry process or who submits an entry that is not in accordance with these Terms and Conditions.
SELECTION OF WINNERS
The prize draw will take place at 354 Church Street Parramatta NSW 2150, New South Wales on the 21/08/2018 at 10:00 am AEST.
The winner will be chosen at digression of Armani Restaurant.
PRIZES
The Prize is one (1) $200 restaurant voucher to Armani Restaurant.
The Prize will be issued subject to the applicants' meeting eligibility criteria and subject to the policy's terms, conditions, limitations and exclusions.
Prizes are not transferable or exchangeable and cannot be redeemed for cash, this includes any unused portion of the prize.
WINNER NOTIFICATION AND PUBLICATION
The winner will be notified in writing via Facebook or email within two (2), for a minimum period of 28 days. The winner will also be notified via phone call. When the Promoter advises the winner they have won a prize, the particulars of how the prize is to be delivered is advised to the winner. The Promoter will not notify entrants of failure to win a Prize. The Promoter will make reasonable efforts to contact the Prize winner; however the Promoter is not responsible for contacting the winner by any other method, or for the winner not receiving notification for any reason. Entrants are responsible for providing and maintaining correct contact details. Each entrant warrants that any details provided with his/her entry are true and accurate, and the entrant indemnifies the Promoter against any loss or damage resulting from any breach of this warranty.
The Promoter is not responsible for any lost, late, incorrectly entered or misdirected entries.
The Promoter is not responsible for any problems, technical malfunction or failure of any telephone network or lines, computer online systems, servers, providers, computer equipment, software, email or other communication network or system, including any failure of an entry to be received in whole or in part by the Promoter due to any of the above or on account of other technical problems or traffic congestion on the internet or at any website or telecommunication systems, or any combination of these issues.
CONSENT TO USE ENTRIES
By entering the competition, entrants consent to the information they submit with their entry, including personal details and/or literary response, being entered into a database and the Promoter may use this information in any media for future promotional, marketing and publicity purposes (including sending electronic communication) without any further reference, payment or other compensation to the entrant.
All entries are the property of the Promoter.
PRIVACY
Entrants' personal information is collected, used, stored and disclosed in accordance with the Promoters Privacy Policy.