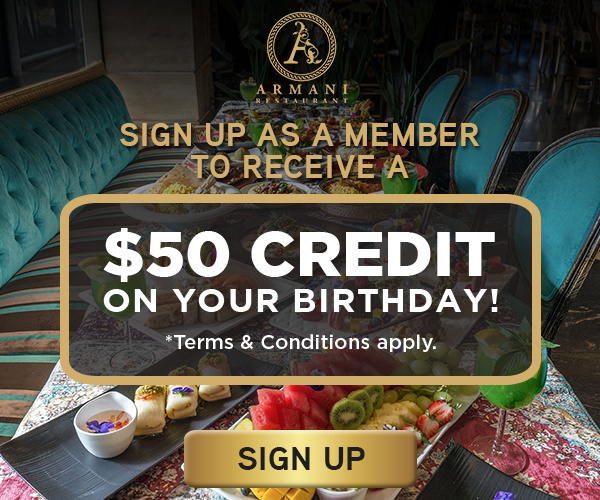 Sign up to become a member and never miss the latest deals, promotions and giveaways!
Current Promotions:
 Receive a $50 credit on your birthday!
Ladies Special: Receive 30% off your entire bill every Monday and Wednesday
All you need to do to claim the current promotions are:
Sign up as an Armani member below
Let us know the promotion you'd like to use when you confirm your reservation
Show us your membership email confirmation upon arrival
Terms & Condition may apply.
$50 Birthday Terms and Conditions:
Credit only valid on the exact day of your birthday
ID proof of your birthday is required
Must confirm reservation beforehand and notify us of the birthday voucher and celebration
Membership offers subject to change without notice
Offer not valid for public holidays and special events
Not valid in junction with any other offer
Offer Valid only for Armani members
By signing up you agree to receive promotional emails from Armani Restaurant
Ladies Night Terms and Conditions:
The booking must be ladies only, no men
Only applicable for groups of 4+ ladies
Must confirm reservation beforehand and notify us of the ladies discount
Offer Valid only for Armani members
Membership Form